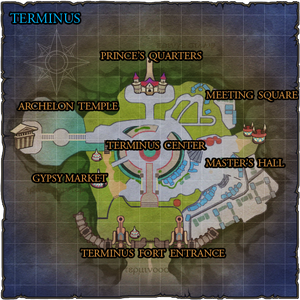 Terminus is a gathering center for all Alliance members. Prince Shilly is the leader of the Alliance forces.
Description
Edit
Main Alliance city, was built by the survivors of the war. Led by Prince Shilly, the human built this fort which eventually became a city after more took refuge here. Here you will find everything you need to aid you in your adventure. Talk to the townspeople for more information and guidance in your path throughout Arcana.
Name

Coordinate
Remarks
Name
Coordinate
Remarks
<Gypsy>

Tobias the Grand

199,203
Divination, merchant card
<Chef>

Elsa Walker

194,162
Recipes, cooking material
<Mailbox>

PB-1000

218,176
Mailbox
<Miscellaneous Merchant>

Kristin Owens

227,233
Consumable
<Equipment Merchant>

Spike Schultz

283,232
Weapons, armor
<Decomposition Items>

Barecalf

298,175
Decomposition items
<Guard>

Tan Owl guard

263,151
<Guild Master>

Chester Douglas

241,151
<Sales Agent>

Kamers Pierre

398,198
Auction House

<Warrior Class Instructor> Juke Brix

340,224
<Mage Class Instructor>

Kuz Brix

361,261
<Rogue Class Instructor>

Abel Monkey Tail

428,271
<Sales Agent>

Odin Kamers

348,323
Auction House
<Warehouse>

Pun Ulpradius

341,351
Warehouse
<Prince>

Shilly Grankine

255,344
<Battlefield Official>

Boris Eagle Eye

176,295
Shopping point battlefield
<Sales Agent> Kamers Middle
165,271
Auction House
<Armor Exchange Merchant>

Sir Geoffrey

317,205
Armor Exchange Merchant

<Priest> Karen

65,278
<Arcana's Tear Vendor> Bill Mays
272,121
Tear's Vendor
Buildings
Edit
Weapon Shop
Blacksmith
Post
Bank
Skill Leaders
Ad blocker interference detected!
Wikia is a free-to-use site that makes money from advertising. We have a modified experience for viewers using ad blockers

Wikia is not accessible if you've made further modifications. Remove the custom ad blocker rule(s) and the page will load as expected.