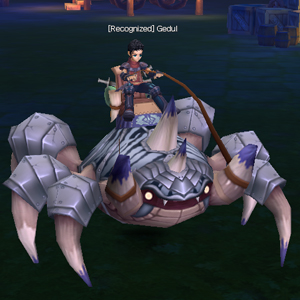 Image of Grey Tiger Spider Crab
The Grey Tiger Spider Crab mount is a permanent mount that used to have a movement speed of 35% but due to new patches, it has been dropped to 30%. It can be used by players at level 20 and above.
This mount can be found through the gift boxes that are dropped by defeating monsters or through the gift boxes given to players from completion of quests.

Ad blocker interference detected!
Wikia is a free-to-use site that makes money from advertising. We have a modified experience for viewers using ad blockers

Wikia is not accessible if you've made further modifications. Remove the custom ad blocker rule(s) and the page will load as expected.